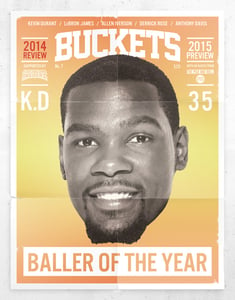 $

25.00
BUCKETS Magazine, preservers of classic print media, presents another unmissable 100-page publication.
This larger format, design-focused edition of BUCKETS includes our extended 2014 Playoff rewind, Finals recap and extensive Award Winners section.
Inside the publication you'll also find coverage of the 2014 FIBA World Cup; Spotlights on both the recently retired Allen Iverson and Hall of Fame inductee David J. Stern; San Antonio's supremacy; and a detailed look at LeBron's legacy now that he's heading home.
As for our 2014-15 NBA Season Preview, well, there's detailed diagnosis on all 30 franchises; a look at the Head Coaching carousel; all the movers and shakers from the Draft and off-season; the 25 Must-see contests; each team's power bar and the level of surgery required to restore each team's health, happiness, sanity or vitality.
Be sure to place your order today... and tell your friends to do the same. Better yet, order two copies (because you could always give one as a gift or keep a duplicate in case greasy fingers happen to ruin your crispy, clean copy).
For additional sample spreads, be sure to visit our online partners:
> basketballinsiders.com
> pickandroll.com.au
-- -- -- -- --
Product dimensions: 8.5" x 11" (22 x 28cm).
Folio length: 96 pages (plus covers).
-- -- -- -- --
Attn: Distributors, Retailers and Stockists.
If you're interested in selling the latest edition of BUCKETS, please contact the title's Publisher, Brad Graham, via email (brad.graham.creative@gmail.com) to discuss large order discounts and your shipping details / deadlines.
-- -- -- -- --
The magazine is ad free.
The RRP cover price has been established to help off set the production, postage, editing and creative costs. The publication will be printed on quality paper stock and every order from the BUCKETS BigCartel store includes postage.
Magazines are printed on demand and orders are placed on the same day any purchase is made. Please allow up to 14 days for the delivery of the magazine.
-- -- -- -- --
Thanks for your support / interest in BUCKETS.
#BucketsMag
#2014BallerOfTheYear
#LongLivePrint
-- -- -- -- --
Additional magazine spreads can be viewed via visiting the Publisher's Twitter account: www.twitter.com/backpackballer